WHERE EVERY VINE IS SUCKERED BY SHEEP
Pennyroyal Farm is committed to sustainability and modern farming practices. It was conceived as a minimum-waste farm and takes into consideration sustainable design—from constructing solar panels on the barn to ensuring the size of the herd would produce enough manure to be converted into compost for fertilizing the vineyards. Leading the vision for the next generation, Sarah Cahn Bennett sees the vineyard, dairy farming, poultry, egg, fiber, fodder, wine, and other food production as essential to the long-term health of farmland. In addition to improving soil health and carbon sequestration, all 23 acres of vineyard are certified Fish Friendly Farming. With all of these activities taking place, we strive to be a regenerative vineyard in the mold of a traditional old-time American farm, and our wines reflect this dream.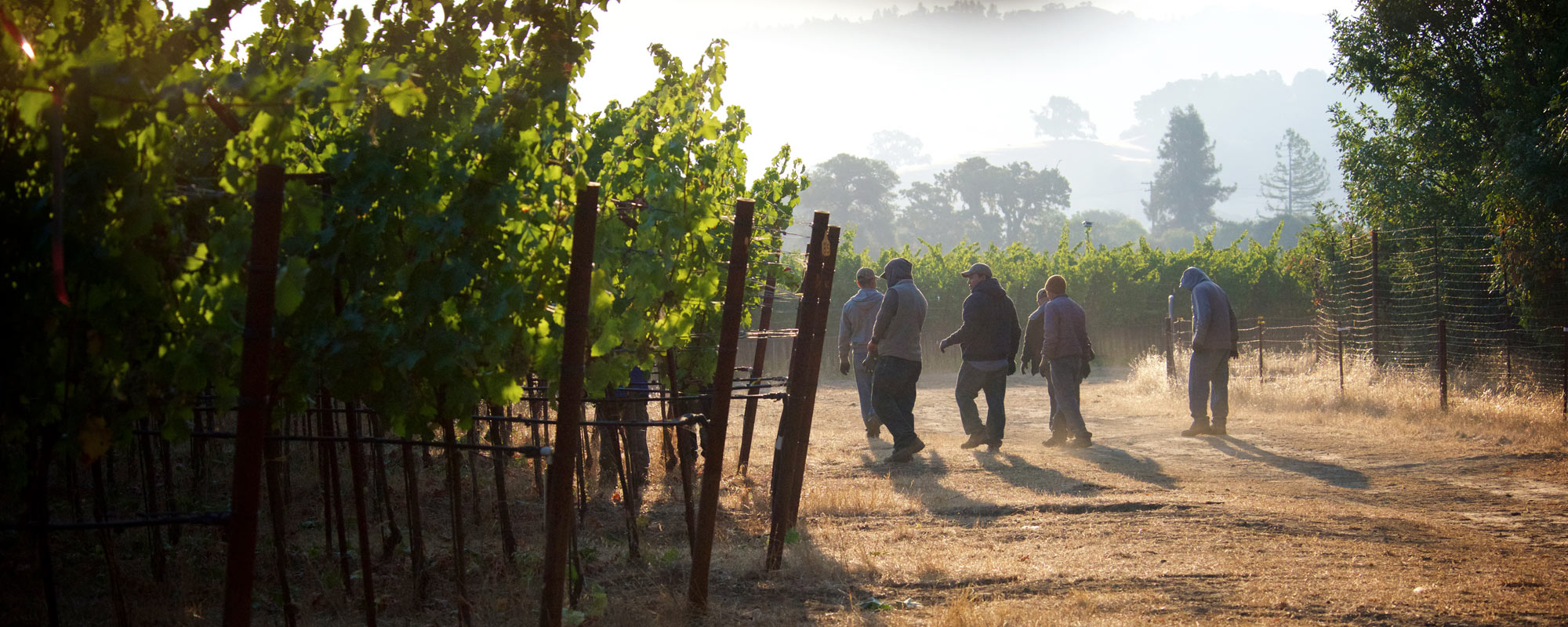 HISTORY
Sarah's parents, Ted Bennett and Deborah Cahn of Navarro Vineyards, started farming wine grapes in the Anderson Valley in 1973. For years, the family owned an undeveloped 100-acre parcel in Boonville, that was primarily used as a hayfield.
Pennyroyal Farm's vineyard was planted in 2008 and 2009 with 23 acres of Sauvignon Blanc and Pinot Noir. The Sauvignon Blanc vines we planted are ENTAV clones of 376, 297, and 530, which were only recently available for importation. For our Pinot Noir we selected and planted ENTAV clones 667 and 115. Our rootstocks include 3309C, SO4, and 110R. The vineyard is divided into seven blocks since we often vinify every acre as a separate lot to capture the variations in the soil profile. The trellis is the modern "V-top" that Navarro has used for all new or replanted fields in the last decade, so the entire vineyard is capable of being weeded and suckered by Babydoll Southdown sheep.
The soils at the Boonville farmstead are dramatically different, principally alluvial washes from the adjacent creek with about 12–14% clay and 70% sand, as opposed to our Philo ranch which is 30–36% clay and 45% sand. The ranches are less than 9.5 miles apart, but Boonville lies 19 miles away from the ocean, vs 10 miles for Philo. Philo also has several distinct sites: lower-elevation fields, and higher, more ocean-influenced sites. Boonville is essentially a single site, though with a mix of two soil types. Being inland where winters are colder, bud break in Boonville is usually about 10 days after Philo. Daytime temperatures in the summer are higher in Boonville, and the grapes generally mature their crop 10 to 18 days before our Philo fruit is ready.